Ever wondered what mountain biking is like? Did you know Korea is a great place to start mountain biking? Would you like to be guided on beginner-friendly trails with sweeping mountain views? Want to meet other people interested in biking and other outdoor sports? Come to iGuideKorea's first MTB Demo Day!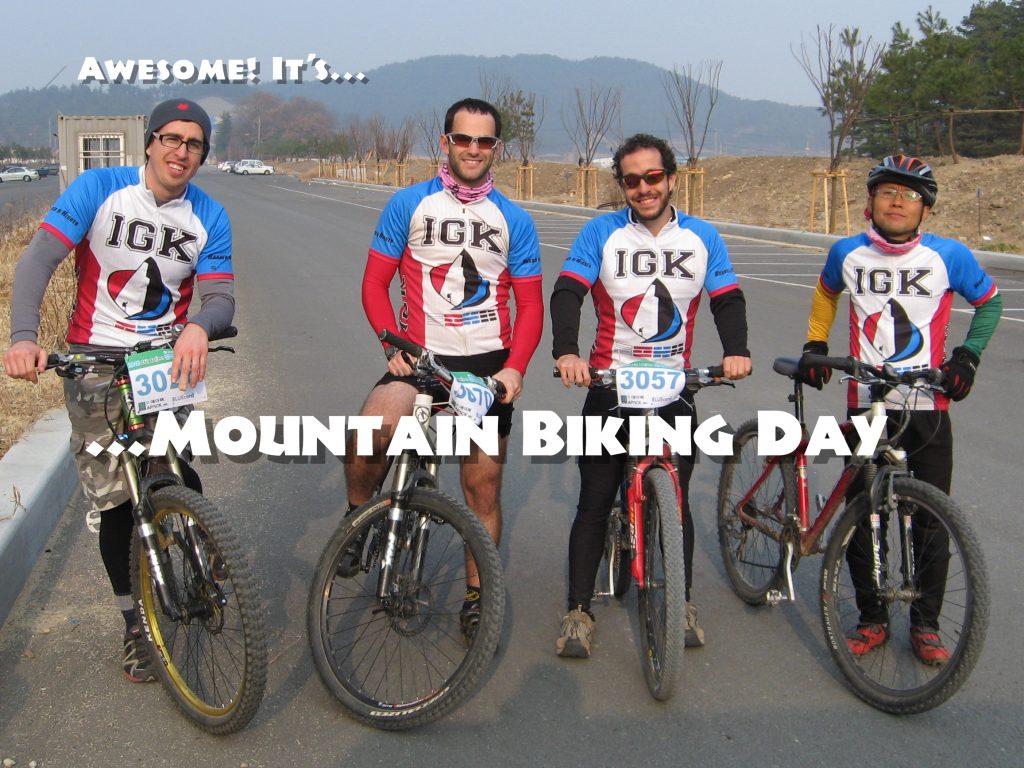 Follow this registration process below and join the fun!
Send your early registration fee of 15,000KRW via bank transfer to the following account: 
• Kookmin Bank (KB Bank),
• Account Holder: EdwardPark(아이가이드코리아), 
• Account Number: 845901-00-025711
Event Description
For New Riders:
iGK's experienced mountain bike guides will take you on a scenic and safe ride through gravel fire roads high up on Daejeon's Bomun Mountain. The ride will focus on enjoying the scenery and the joy of riding in the forest rather than difficulty and intensity. Giant Bicycles Korea has generously offered high-end demo bikes which will be available to ride. If you have your own bike, bring it! If not, no problem. Giant Bicycles will be providing top of the line mountain bikes for demo. First-come, first-served on the demo bikes, but we will make sure everyone gets to ride one of these awesome bikes.
For Experienced Riders:
iGK's guides will host an enduro race comprised of 3 different downhills, all easily accessible from the event location. These are 3 of the most exciting downhills in the Daejeon area. Together, they comprise 5.5km of pure downhill joy.
| | | | | |
| --- | --- | --- | --- | --- |
| Course | Length | Average Grade | Notes | Elevation profile and Strava Link |
| Beomgol DH | 2.1km | -8% | Moderate difficulty. A few short punchy climbs. Mix of smooth singletrack and rooty tech sections. Some built jump options. | |
| Cable Car | 1.0km | -8% | Several super fast, flowy sections punctuated by black diamond rock gardens, root drops, and even a Northshore-esque slick rock slab. | |
| Bomunsan Super D | 2.4km | -6% | Long and fast. Several short punchy climbs make you earn your descent. | |
Our guides will lead rides to each of these courses every 30 minutes. Times for each of the runs will be recorded by the racers using the Strava mobile app. You must run Strava to participate in this race. You may attempt each course as many times as you like between 12pm and 3pm on race day. Each rider's lowest Strava times for each of the 3 courses will be added together to make a cumulative time. The racer with the lowest cumulative time wins. Prizes for 1st, 2nd, and 3rd place finishers.
Prize Raffle
Each paying event attendee will receive 1 raffle ticket for several prizes that will be given out at the end of the event.
Food
Water and snacks will be provided to all paying attendees.
Date

Saturday, June 17, 2017 from 11am to 4pm
Contact Information
Contact iGuideKorea with any questions at 010-2080-9443 or igk@iguidekorea.com or www.facebook.com/iguidekorea/.
Venue Location 
Bomunsan Forest Stage